Collection:
True Flight Balls
1 product
The True-Flight Advantage
True Flight Balls™ are 
the ultimate training tools for hitters of all levels. They offer precision and 
realism that replicate game conditions, enhancing your bat-to-ball skills like 
never before. These remarkable tools are like hitting plyometrics, but with a 
twist – you can use them on pitching machines at game speeds and even challenge 
yourself by using a skinny bat.
In collaboration with the baseball visionary himself,
 

Nate

 

Trosky,

 

Trosky Baseball

 

has redefined the art of hitting with True Flight Balls. This groundbreaking training tool is engineered to elevate your hard-hit average to new heights, setting you on a path to unlocking your full potential: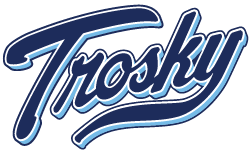 by coach nate trosky
Trosky Baseball™
Trosky Baseball is the world's leading authority on Infield Development. Nate Trosky, the master mind behind the brand, has developed the Trosky Infield Academy, the most comprehensive infield training system in the game. With his rich coaching experience, he has created baseball brilliance by completing the circle of Player Development
Absolutely in Love!
I'm absolutely in love with the Trosky Baseball T-shirts! They are so comfortable and fit perfectly, which is crucial when you're playing on the field. Thanks to Coach Nate Trosky and Trosky Baseball for making such great gear.
Stylish & Comfortable!
I never used to be much of a hat person, but the Trosky Baseball hats have completely changed my mind. They're stylish, comfortable, and most importantly, they keep the sun out of my eyes while I'm playing. Thanks Coach Nate Trosky!
Improve Hand-Eye Coordination!
The Trosky Baseball frisbees are a must-have for all players. They're fun to use for warm-ups and they really help improve my hand-eye coordination. Thanks Coach Nate Trosky and Trosky Baseball for such great products!
Valuable Resource!
The Trosky Baseball mental game cards have been such a valuable resource for me. They help me stay focused and motivated, and I always have them with me when I play. Thanks Coach Nate Trosky and Trosky Baseball!
Stay Positive & Focused!
The Trosky Baseball motivational banners are a constant source of inspiration for me. I hang one up in my room, and it helps me stay positive and focused, even when things get tough. Thanks Coach Nate Trosky and Trosky Baseball!
Great Tool for Progress!
The Trosky Baseball training stickers are a great tool for keeping track of my progress. They help me set goals and stay focused on what I need to do to improve. Thanks Coach Nate Trosky and Trosky Baseball!
NATE TROSKY ELITE INFIELD CAMPS
9 MORE REASONS TO JOIN US
Gain Great Insight
Many people tell us their favorite part of camp is all the great insights they learn about the 95/5. The 5% Mental that controls the 95% Physical!
Train Like A Gold Glover
Not everyone has what it takes to become a Professional. Everyone has the ability to reach the best version of themselves. We will give you the tools to RYC, Reach Your Ceiling!
Build Your Baseball IQ
Coach Trosky's guidance ensures that participants receive expert insights into the nuances and complexities of baseball, enabling them to refine their skills and approach to the game.
Develop Elite Glove Actions
Coach Trosky will teach you the secrets to having Elite Hand Actions, training you to play Light, Loose, Free and Easy (SUAVE).
Increase Speed and Agility
Getting Noticed often comes down to becoming what we call, Elite Movers. We have built unique training systems that are Infield Specific, that will transform your footwork and foot-speed.
On-Field Communication
Almost all of today's players are in the dark when it comes to the on-field communication used by high-level players. We have proven communication system that will separate yourself from the crowd.
Get Mental Hacks To Remember
Consistent communication from Coach Trosky so can constantly grow to GYMR (Get Your Mind Right). Coach Trosky is a master at training you how to TTB (Train and Trick the Brain)!
Improve Your Footwork
Coach Trosky will teach you the footwork sequences that will get you to stand out from the pack. When you are training for specific situations, you are ready for them when they occur in a game.
Complete Player Development
Coach Trosky will guide you through what he calls complete player development; the body, tools, and makeup of an elite infielder. Complete the Circle!