What's Included
Join the Trosky Advantage! BetterEveryday!
Nate Trosky is the leading authority on Infield Development and the Mental Game. Nate Trosky has helped thousands of players from all over the world RTC, Reach Their Ceilings. Nate has created a program is the most comprehensive program in the game and it is continuing to grow weekly. Join the thousands of members that have put their trust in Trosky Baseball. Gain the Trosky Advantage!

OVER 500 HOURS of Content with over 400+ Drill Videos

Image slide
MENTAL GAME TALKS OVER 40 UNIQUE VIDEOS
SPEED, QUICKNESS, CONE DRILLS OVER 50+ UNIQUE WORKOUTS FOR INFIELDERS
WEEKLY 3-4 TEXT MESSAGES FROM COACH NATE TROSKY ON INFIELD PLAY AND THE MENTAL GAME
PRO PLAYER ASSESSMENT OVER 30 BREAKDOWNS OF THE TOP INFIELDERS IN MLB
100's OF DRILLS THAT ARE UNIQUE TO THE TROSKY BRAND GAME SPEED, GAME CLOCK REPS
DRILLS ARE JUST THE BEGINNING.
OUR MEMBERSHIP OFFERS DESIGNED PROGRAMS, ON FIELD COMMUNICATION SYSTEMS, BASEBALL IQ, MENTAL GAME TRAINING AND SO MUCH MORE!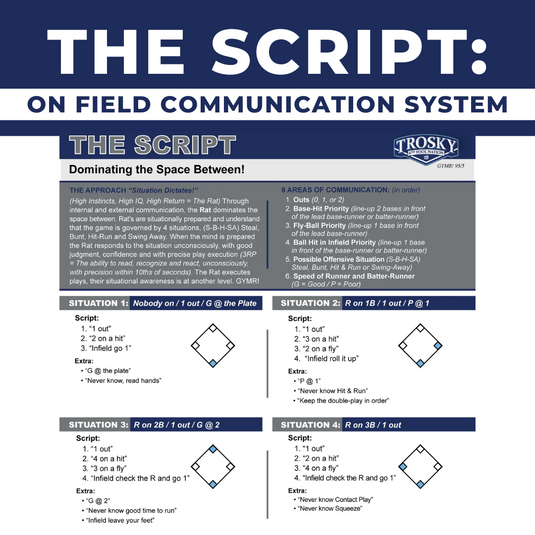 THE SCRIPT: ON FIELD COMMUNICATION SYSTEM
TOP SELLER OVER 20 VIDEOS
Almost all of today's palyers are in the dark when it comes to the on-field communication used by high-level players. Watch how much people notice you when you apply a proven communication system that will have you really separate yourself from the crowd.
TROSKY INFIELD YOGA
ROUTINE DESIGNED SPECIFICALLY FOR INFIELDERS
Become an Elite Mover with Elite Actions. The first thing a scout or college coach looks for is the eye test. How player move, are they light, loose free and easy. Our Yoga routine is designed specifically for infielders to unlock your hips and levers. There is nothing like this baseball training.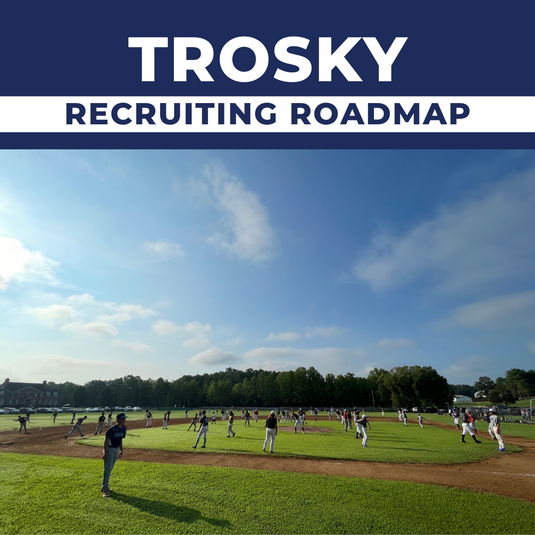 TROSKY RECRUITING ROADMAP
ALL THE SECRETS TO THE COLLEGE RECRUITING PROCESS
Learn all the secrets to the recruiting process with clear, concise guidance from Coach Trosky's 30 years of baseball experience. Sample letters, huge network, timeline of when you should be doing what, college contact list, mistakes to avoid, true evaluation of the fit for you player using proven methods.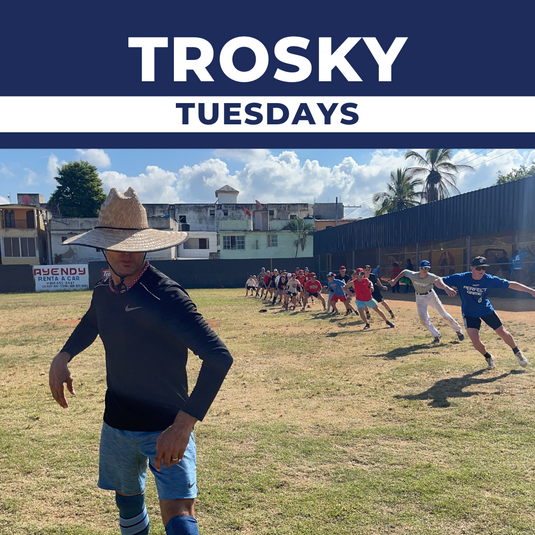 TROSKY TUESDAYS
ACCESS TO INTERVIEWS WITH SOME OF THE PROFESSIONALS IN THE GAME!
Trosky Tuesday is a bi-weekly show with Coach Trosky and from coaches around the country. Nate discusses topics of the week specific to infield play, the mental game, recruiting and more. We have over 80 interviews with over 300 hours of content from Alan Jaeger, Mark Mcguire, Tom House and so many more!
GAIN THE TROSKY ADVANTAGE, JOIN THE TROSKY NETWORK
Body, Tools, Make-Up, Complete Player Development
Better EveryDay! Trosky Baseball Infield Academy
Start Your 7 Day, Full Access Trial For Just $1!
BECOME PART OF THE TROSKY PIPELINE
TESTIMONIALS FROM THE 6TH TOOL NATION
Developed for Players & Coaches at All Levels
Coach Nate Trosky developed this progam for his MLB infielders, but the drills and mental game programs translate to players and coaches at all levels. Complete Player Development, Body, Tools, Make-Up!
AGES 9 AND UP - PLAYERS AND COACHES
Baseball and Softball Players
Customized Drills and Training
Redefine Success as a Player and Coach
Build Consistent and Repeatable Actions
Develop the 6th Tool at a Young Age (Mental Game)
Learn How to Train Anywhere
TAKE THE FIRST STEP TO BUILDING YOUR FOUNDATION TODAY!
AGES 13 TO 18
High School Players and Coaches
Competitive Drills or Challenge Reps
Learn the Secrets to Getting Noticed
Real Assessment Tools or Evaluation Techniques
Access to Top Professionals in the Game
Guided Approach to the Recruitment Process
BEGN YOUR JOURNEY TO GETTING NOTICED!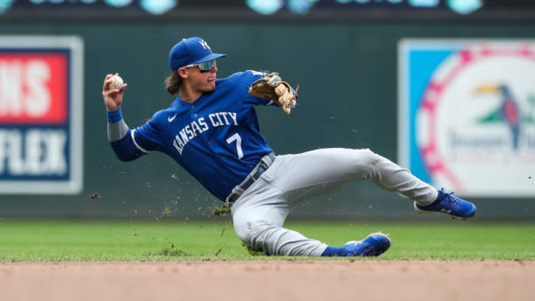 AGES 18 AND ABOVE
College and Pro Athletes
Develop Repeatable Actions that Get You Noticed
Access to In-Season and Off-Season Training Programs
Develop Elite Footwork, Posture, Arm Mechanics
Self Assessment Tools
Train Anywhere Without a Coach
Elite Mental Game Training
THE ROAD TO GREATNESS STARTS HERE!
AGES 13 TO 18
Coaches and Parents
Year-round Systems for Training Anywhere
Tools to Evaluate Players and Project Them
Unique Systems and Drills for All 6 Tools: Footwork, Throwing, Posture, Body, Speed, Mental Game and So Much More
Learn the Secrets to Competing in Practice
Get Your Players Recruited
JOIN THE 1000's ALREADY TAKING THE TROSKY ADVANTAGE!
DEVELOPED & USED BY COACH NATE TROSKY
Our Community is Growing!
MAJOR LEAGUE BASEBALL DRAFT PICKS
A lot of people play baseball in America and around the world. A very small percentage have professional careers in the big leagues. The Trosky Baseball ecosystem is the route that many pros have taken on their way to the majors.
QUESTIONS?
FAQs
DESIGNED FOR PLAYERS , COACHES AND PARENTS AT ALL LEVELS
Everything you need to know about TROSKY BASEBALL INFIELD ACADEMY, BILLING, PLAN INFO. If you have further questions, just email our team:

contact@troskybaseball.com
Accordion with symbols
Coach Trosky has designed complete systems for every phase of infield play for baseball or softball. He has developed training programs, communication scripts, throwing programs with charting, quality at bat charts, comprehensive recruiting programs and navigation through the mental game. He will guide you through the 95/5. The 5% mental that controls the 95% physical.
Our Private Facebook Group, Trosky Tuesday Zoom Calls and Q and A's with Coach Trosky are designed to give you full access to our team and Coach Trosky. We have over 2000 members and counting taking advantage of the Trosky Network.
We have created downloadable documents for all our members including hitting charts, training programs, sample letters, recruiting documents, evaluation cards, defensive playbooks and so much more.
Trosky Essentials includes the foundation of Trosky Infield Development. It will give you access to many of our Drill Packages and Systems. Trosky navigation gives each member direct access to Coach Trosky through Zoom calls 2 times a month as well as frequent text messages and Private Facebook Group. Trosky Navigation also gives you in-depth access to all things Trosky including his new content that is released every 2 to 3 weeks in our growing library of content. Trosky Navigation also gives members Discounts on in person camps.
THE TROSKY TEN is an exclusive membership with only TEN SPOTS available for the calendar year . The membership includes all the content from the other offers with an exclusive mentorship with Nate Trosky. These ten members will get free invitation to two in-person camps during the year. 2 Video Evaluations from Coach Trosky during the year, individualized training calendar and recruiting guidance, mental game assessments, 1 phone call a month as well as in person training either before or after camp or in person at at location that works for both. On top of this, each of the TEN will recieve a one of kind Infield Training kit from Trosky Baseball which includes KneePad, Bounce Back Screen, Jaegar Bands, Jump Rope, Training Flat Cones, Vitillas and Trosky Gear.
We are currently working with several organizations, and we do have special pricing for both teams and organizations. With teams with more than 8 players, coaches will receive 2 free memberships. We also offer organization pricing for elite travel organizations, college programs and entire leagues. With these offers, all of the coaches in the organization will receive free memberships. We also will build unique landing pages and offers for those teams and organizations. For more information on these offers, please contact tony@troskybaseball.com